Would it surprise you if I tell you that the Great State of Ohio has more than ten facts that make it one of the best states to live in and business?
Ohio has a history full of exciting people, places, and firsts that match our natural landscape of rolling hills, rich farmlands, and thick forests. Early in Ohio's history, the area was a destination spot for people coming from someplace else. That means many of the city and county names came from someplace else. It was also a place where Native Americans lived, and when French and English explorers came here, they used those names on their maps. That's why so many characters are almost unpronounceable to those visiting. Don't worry if you're not from Ohio, and everyone mispronounces words that Native Ohioans have been saying all their lives.
Birthplace of Aviation
In 2003, Congress officially declared Ohio as the "birthplace of aviation" over North Carolina because Dayton was the home of Wilbur and Orville Wright. They were credited with inventing and flying the first aircraft. Ohio is proudly called the "Birthplace of Aviation" because two Ohioans, Orville, and Wilbur Wright, invented the first airplane and changed the world of flight forever!
Ohio's legacy of space exploration
Ohio paved humans for space exploration. Twenty-four astronauts were born in Ohio. Ohio is home to pioneers in many fields. One of the areas in which Ohioans have blazed new trails is spaceflight. According to NASA, 25 astronauts are Ohio natives, having made nearly 80 space flights, three of those flights being trips to the Moon. Ohio astronauts have logged more than 22,000 hours in space.
New York has produced the most astronauts, with 29 born in the state (plus two space tourists), followed by the State of California as the birthplace of 28 astronauts.
First American from Ohio to orbit the earth
John Glenn became the first American in orbit with his February 20, 1962, three-orbit flight. Astronaut John H. Glenn, Jr. entered his Mercury spacecraft Friendship 7 before launching the first U.S. manned Earth orbital mission, February 20, 1962. His boyhood home is in Cambridge, Ohio.
First-person to step foot on the moon from Ohio
On July 20, 1969, Neil Armstrong became the first human to step on moonMoon. He and Aldrin walked around for three hours. They did experiments. They picked up bits of moon dirt and rocks. Neil Alden Armstrong (August 5, 1930 – August 25, 2012) was an American astronaut, aeronautical engineer, and the first human to walk on the Moon. He was also a naval aviator, test pilot, and university professor. Armstrong was born and raised in Wapakoneta, Ohio.
Eight U.S. Presidents are from Ohio
Eight U.S. Presidents came from Ohio. "Mother of Presidents" is sometimes used to refer to Ohio. Seven United States Presidents were born in Ohio. They are Ulysses S. Grant (Point Pleasant), Rutherford Birchard Hayes (Delaware), James Abram Garfield (Orange Township – now Moreland Hills, Ohio), Benjamin Harrison (North Bend), William McKinley (Niles), William Howard Taft (Cincinnati), and Warren Gamaliel Harding (Corsica, now Blooming Grove). Born in Virginia but settled in Ohio, William Henry Harrison is also claimed as an Ohio president. The Ohio Statehouse has named six House and two Senate hearing rooms in honor of Ohio's eight presidents.
Thomas A. Edison was born in Ohio.
Thomas Alva Edison was a significant inventor from the United States. Edison was born on February 11, 1847, in Milan, Ohio. As a child, he lived in Milan and Port Huron, Michigan. He only received three months of formal schooling.
First college owned and operated by African-Americans from Ohio
Wilberforce University became the nation's first college-owned and operated by African-Americans. Wilberforce University is a unique institution located in a state rich in America's private college tradition. Founded before slavery in 1856, it is the nation's oldest, private African-American university. For 156 years, W.U. has provided young African-American students with a solid educational experience through sheer force of will.
Rock and Roll Hall of Fame is in Ohio
Cleveland is the proud home of the Rock and Roll Hall of Fame.
The Rock and Roll Hall of Fame (RRHOF), sometimes referred to as the Rock Hall, is a museum and hall of fame located in downtown Cleveland, Ohio, United States, on the shore of Lake Erie. The museum documents the history of rock music and the artists, producers, engineers, and other notable figures who have influenced its development.
The United States Air Force Museum in Ohio
Ohio is home to the United States Air Force Museum. The National Museum of the U.S. Air Force, located at Wright-Patterson Air Force Base near Dayton, Ohio, is the world's largest military aviation museum. The museum features more than 350 aerospace vehicles and missiles and thousands of artifacts amid more than 19 acres of indoor exhibit space with free admission and parking. Open 9 a.m. to 5 p.m. seven days a week. FREE Admission & Parking. Museum now houses post-Cold War era planes such as the Northrop Grumman B-2 Spirit stealth bomber (test aircraft), the Lockheed F-117 Nighthawk stealth ground-attack aircraft, presidential aircraft/planes, and an enlarged educational outreach area. The museum's collection contains many rare aircraft of historical or technological importance and various memorabilia and artifacts from the history and development of aviation. Among them is the Apollo 15 Command Module Endeavour which orbited the Moon 74 times in 1971, one of four surviving Convair B-36 Peacemakers, the only surviving North American XB-70 Valkyrie and Bockscar—the Boeing B-29 Superfortress that dropped the Fat Man atomic bomb on Nagasaki during the last days of World War II.
America's Roller Coaster
Ohio is known for Cedar Point, "America's Roller Coaster." Cedar Point is a 364-acre (147 ha) amusement park located on a Lake Erie peninsula in Sandusky, Ohio, United States. Opened in 1870, it is considered the second-oldest operating amusement park in the U.S. behind Lake Compounce. Cedar Point is owned and operated by Cedar Fair and is the flagship of the amusement park chain. Known as "America's Roller Coast," the park features 16 roller coasters – third-most in the world behind Canada's Wonderland, Energylandia, and Six Flags Magic Mountain. Its newest roller coaster, Steel Vengeance, opened to the public on May 5, 2018.
Ohio is a swing state.
Photo: Oxford University
Ohio is a swing state which means Ohio is pretty significant for Presidential Elections. It's often said that Ohio is the decision state for presidential elections. All voters matter, but Ohio voters matter the most. Only eight presidents have lost in Ohio and gone on to the White House. The last U.S. President to be elected without winning Ohio was John F. Kennedy in 1960.
26th best state to live in
The survey ranked Ohio the 26th best state to live in.
Ohio scored relatively high in factors like quality of life and safety but low in the economy, education & health.
Best states for business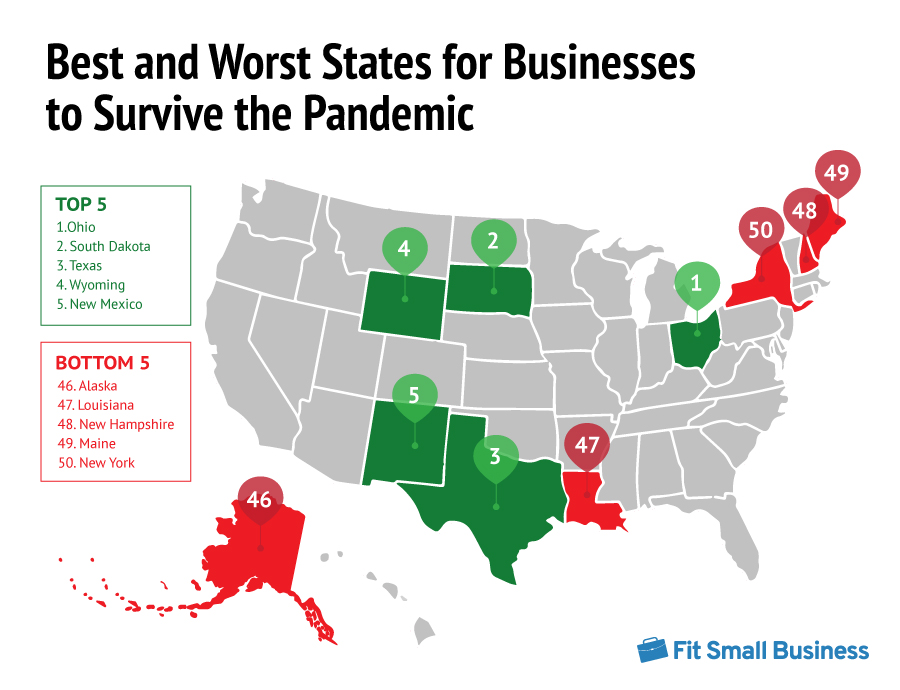 Photo: Fitsmall business
Consistently ranked one of the best states for business, Ohio offers residents many benefits, including a low cost of living, excellent schools, and good recreational opportunities.
First Gas Station in America from Ohio
Two Standard Oil men, B.A. Mathews and H.S. Hollingsworth recognized the new horseless carriages' opportunity for the new century. The two men created America's first-ever service station in Columbus to take advantage of this opportunity.
Famous Celebrities and personalities from Ohio
Dean Martin–born in Steubenville in 1917, was a high-school dropout, a whiskey runner, a boxer, and a steel mill worker. He became one of the most famous singers, movie actors,s and T.V. personalities of the 50s and 60s.
Clark Gable– born in 1901 in Cadiz, Ohio.
Paul Newman– born in 1925 near Cleveland.
Roy Rogers– a famous T.V. cowboy, was born in 1911 in Cincinnati.
Pat Brady — born in Toledo, was Roy Rogers's sidekick on the Roy Rogers TV show.
Bob Hope — although Bob Hope wasn't born in Ohio (he was born in England), he and his family moved to Cleveland when he was five years old.
Anne Heche– born in Aurora in 1965.
Martin Sheen– born in 1940 in Dayton.
Steven Spielberg– was born in Cincinnati in 1947.
Drew Carey– was born in Cleveland in 1958.
Jamie Farr– known for Klinger's character in the T.V. show MASH, was born in Toledo.
Henry Mancini– born in Cleveland in 1924.
Erma Bombeck– the great American humorist, was born in Dayton in 1927 and is buried under a big rock in Dayton that was brought back to Ohio from her home in Arizona.
Toni Morrison– this Pulitzer Prize-winning author was born in Lorain, Ohio, in 1931.
Gloria Steinem– founding editor of M.S. Magazine and co-founder of the modern feminist movement, was born in Toledo in 1934.
Jack Paar– host of the Tonight Show before Johnny Carson, was born in Canton in 1918.
Phil Donahue– was born in Cleveland in 1935 and was the first to introduce talk tv with his show The Phil Donahue Show in Dayton, Ohio, which became the longest continuous run syndicated talk show in U.S. television history.
Paul Lynde– a long time T.V. and movie comedian was born in Mount Vernon in 1927
Margaret Hamilton– a name that most people won't recognize until you mention a character she played in the movies: The Wicked Witch of the West in the Wizard of Oz movie with Judy Garland. She was born in Cleveland in 1902.
Gordon Jump– is another actor whose name you probably don't recognize but will recognize the character he played from hit T.V. show WKRP in Cincinnati, which aired in the mid-70s. He played the role of the station manager, Arthur Carlson. Later in his life, he played the lonely Maytag Repairman role in many television commercials. Gordon was born in Dayton in 1932.
Allison Janney– played the press secretary C.J. Cregg on the television series The West Wing and a starring role in the T.V. comedy CBS Mom was also born in Dayton in 1960.
Ted Turner– founder of CNN, TCM, and TNT, was also born in Cincinnati in 1938.
Gates McFadden– she played the chief medical officer Beverly Crusher in the T.V. series: Star Trek: The Next Generation. She was born in Cuyahoga Falls in 1949.
Nancy Wilson– has recorded over 60 albums, half of which have appeared on the Billboard charts, was born in Chillicothe, Ohio in 1937, but grew up in Columbus, where she graduated from West High School.
Rosemary Clooney– singer, movie actress, and T.V. host. She was born in Kentucky but moved to Cincinnati when she was 13. She is George Clooney's aunt.
Phyllis Diller– a female comedienne, stage performer, and actress, was born in Lima, Ohio, in 1917.
Lillian Gish— movie actress, stage performer, and the first female director in 1920 was born in Springfield in 1893.
Annie Oakley— born in Woodland, Ohio (now known as Willowdale) in 1860, became known as a highly-skilled sharpshooter. "Little Sure Shot" was the Sioux Chief Sitting Bull gave her when he saw her shooting skills.
Ruby Dee— born in Cleveland in 1924. She has appeared in numerous stage and screen productions.
Teri Garr— a television and movie actress, was born in Lakewood, Ohio, in 1947.
Luke Perry— actor, director, and producer, was born in Mansfield, Ohio, in 1965.
Jim Backus– was born in 1913 in Cleveland. Although he played in numerous movies and television productions, he will probably be best remembered for his role on Gilligan's Island as Thurston Howell III.
Joel Grey— singer and actor, was born in Cleveland in 1932.
Tim Conway— born in 1933 in Willoughby. He is both a well-known actor and writer.
Joe Flynn– born in Youngstown in 1924, perhaps best known as "Old Leadbottom" on the hit T.V. series McHale's Navy that first aired in the early 1960s.
Molly Shannon— who gained fame on Saturday Night Live in 1975, was born in 1964 in Shaker Heights.
Ernest Tidyman— a novelist and screenwriter, best known for his screenplay The French Connection. Ernest was born in Cleveland in 1928.
Chad Lowe– was born in Dayton in 1968. He is the younger brother of Rob Lowe, and he is an actor, director, and producer.
Michael Pataki– born in Youngstown in 1938, had an acting career that spanned 50 years on both the silver screen and television.